Skip to product information
Capill'Care
Capill'Care - Neem Moringa Amla hair mask (repairing)
29,99 €
At your service
since 2009

Scalapay payment
3x free of charge

Free delivery from 60€
The brand's protein mask Capill'Care , to durably repair and fortify your hair... while favoring an exceptional composition, both natural and hyper-effective.
The Neem Moringa Amla mask contains in particular (as its name suggests), 3 key ingredients, used in their powder form:
Neem helps soothe your scalp. It is ideal after a protective hairstyle for example (to relieve traction).
Moringa also has a soothing effect while promoting good blood circulation on the scalp
Amla brings its purifying, regenerating and antioxidant properties.
To complete this beautiful picture, Capill'Care has added proteins via a high concentration of avocado oil, supplemented with wheat proteins.
Your hair will also benefit from the benefits of shea or aloe vera.

As you will have understood, the Capill'Care protein mask is much more than a restorative treatment. In addition to fortifying and reducing breakage, it has an action on the growth.
As with all protein-rich masks, we advise you not to use it every week (but rather to alternate it with a deep moisturizing treatment such as the Hibiscus mask from Capill'Care)
Capacity = 200ml
Pas envie d'attendre une livraison de colis ?
Envie de bénéficier de notre expertise sur place ?
La majorité des références présentes sur notre e-shop sont également vendues dans notre boutique de Paris :
Colorful Black
7 rue Poissonnière
75002 PARIS
Les stocks de la boutique étant différents des stocks du e-shop, n'hésitez pas à nous appeler pour vérifier la disponibilité d'un produit 😀
Numéro de téléphone de la boutique :
09 74 98 36 72
(mardi à samedi de 11h à 19).
Take advantage of fast delivery to your home, workplace or pick-up point.
Hexagonal France
DROM - COM (Overseas)
Europe (including UK, Switzerland and Norway)
Maghreb

With the exception of Monday (day on which delays are possible), orders placed before 12 noon on weekdays are generally dispatched the same day.
Outside the European Union, note that the 20% VAT is not applied to your order. You pay tax free.
Customs fees / taxes in force will be paid upon arrival of your package.
Notre e-shop www.colorfulblack.com est certifié par Trusted Shops, référence européenne sur la collecte d'avis clients.
N'hésitez pas à découvrir les avis de nos clientes et clients.
En achetant sur notre site vous profitez d'un service client réactif et efficace.
Soin profond idéal
Je n'avais jamais trouvé ces actifs dans un masque du commerce alors qu'ils sont très répandu dans la culture DIY des cheveux afro. Un bonheur d'avoir cette formule prête à l'emploi, elle revigore les cheveux qui semblent plus forts dès le rinçage.
Soin protéiné au top!
Un trio de protéine hyper efficace pour un renforcement des cheveux!
Les cheveux sont plus souples et ont un meilleur aspect. Je survalide!
Bon masque
Masque qui fonctionne bien sur les cheveux boucles fin mais attention il ne faut pas avoir la main trop lourde . Par contre la marque ayant changé son packaging sur les masque il y a moins de produit qu'avant et pourtant le même prix . Je ne trouve pas ça très honnêtes de leurs part . Alors même si je l'aime bien ce masque je pense plus l'acheté. #jesuispasunpigeon photo ci jointe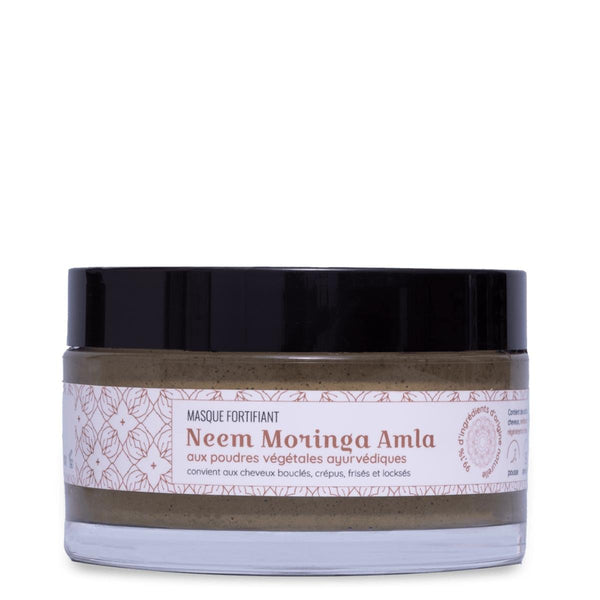 Capill'Care - Neem Moringa Amla hair mask (repairing)
29,99 €